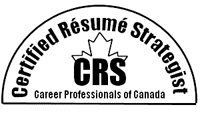 Our mission is to produce a top-of-the line competitive and compelling resume so you can gain the leading edge and secure more interviews. You might be surprised at the number of employers who are searching for people with your skills. Need a resume as a Permanent Resident in Canada? We can help!
​
We're the Certified Resume Experts!
​
Certified Professional Resume Writer (CPRW)
Certified Resume Strategist (CRS)
Medical Office Administration Diploma with Honours (MOAD)
Affiliated with Professional Association of Resume Writers and Career Coaches (PARW-CC),
Founding Member of Career Professionals of Canada (CPC)
Published in several resume books.
Also visit our other website to read more reviews. Then connect with us by email: and by phone: 416-226-0460. We Can Help You! We are in Toronto, Ontario.