Certified Professional Resume Services
By Phone and Email or In-Person
Our Team of Expert and Accredited Resume Writers want to help you land interviews.
​
We've helped thousands improve their career documents since 1994. People from all different industries depend on my team and me to produce their resumes, cover letters, LinkedIn profiles, thank you letters, and much more written material.
​
Planning on moving to Canada?
​
Many people planning to come to Canada need a 'Canadianized' resume for immigration. I can produce this for you and your family members.
Email:
Also visit:
​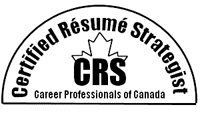 "Award Winning Resumes in Canada" has excellent resume professionals who will provide you with outstanding documents. I just landed a new job a week after receiving my resume and cover letter! I am so pleased to be working as a Sales Rep. for a leading corporation. The salary I'll be getting will help me buy a house.
- George Tatalino, Woodbridge, Ontario
"I decided to go with Karen to design my resume project. I was extremely pleased with her level of professionalism and quality of work. She followed-up with me every step of the way (e.g. Resume and cover letter status) and turned around my project within a reasonable time frame. My money was well spent and I feel confident that my new resume and cover letter will drive the results I'm looking for."
- Marsha Marborough